The Saxon Shore is Burning

£15

A popular game of the Society of Ancients, the artwork has been entirely redone in full colour and the size of the mapboard and counters doubled in size in this new deluxe edition.

 

Here is an extract from the rulebook:

 

𝘛𝘩𝘪𝘴 𝘪𝘴 𝘢 𝘵𝘸𝘰-𝘱𝘭𝘢𝘺𝘦𝘳 𝘴𝘪𝘮𝘶𝘭𝘢𝘵𝘪𝘰𝘯 𝘰𝘧 𝘵𝘩𝘦 𝘉𝘢𝘳𝘣𝘢𝘳𝘪𝘢𝘯 𝘊𝘰𝘯𝘴𝘱𝘪𝘳𝘢𝘤𝘺 𝘰𝘧 367 𝘈.𝘋. 𝘈𝘨𝘢𝘪𝘯𝘴𝘵 𝘙𝘰𝘮𝘢𝘯 𝘉𝘳𝘪𝘵𝘢𝘪𝘯. 𝘐𝘯 𝘵𝘩𝘢𝘵 𝘺𝘦𝘢𝘳 𝘵𝘩𝘦 𝘚𝘤𝘰𝘵𝘵𝘪 𝘰𝘧 𝘐𝘳𝘦𝘭𝘢𝘯𝘥, 𝘈𝘵𝘢𝘤𝘰𝘵𝘵𝘪 𝘰𝘧 𝘞𝘦𝘴𝘵𝘦𝘳𝘯 𝘚𝘤𝘰𝘵𝘭𝘢𝘯𝘥, 𝘗𝘪𝘤𝘵𝘪 𝘰𝘧 𝘌𝘢𝘴𝘵𝘦𝘳𝘯 𝘚𝘤𝘰𝘵𝘭𝘢𝘯𝘥 𝘢𝘯𝘥 𝘵𝘩𝘦 𝘚𝘢𝘹𝘰𝘯𝘪 𝘰𝘧 𝘜𝘱𝘱𝘦𝘳 𝘎𝘦𝘳𝘮𝘢𝘯𝘺/𝘓𝘰𝘸𝘦𝘳 𝘋𝘦𝘯𝘮𝘢𝘳𝘬 𝘫𝘰𝘪𝘯𝘦𝘥 𝘧𝘰𝘳𝘤𝘦𝘴 𝘵𝘰 𝘵𝘢𝘬𝘦 𝘢𝘥𝘷𝘢𝘯𝘵𝘢𝘨𝘦 𝘰𝘧 𝘵𝘩𝘦 𝘸𝘪𝘵𝘩𝘥𝘳𝘢𝘸𝘢𝘭 𝘰𝘧 𝘵𝘩𝘦 𝘱𝘳𝘰𝘷𝘪𝘯𝘤𝘦'𝘴 𝘵𝘩𝘳𝘦𝘦 𝘭𝘦𝘨𝘪𝘰𝘯𝘴 𝘵𝘰 𝘵𝘩𝘦 𝘤𝘰𝘯𝘵𝘪𝘯𝘦𝘯𝘵 𝘪𝘯 𝘰𝘯𝘦 𝘰𝘧 𝘵𝘩𝘦 𝘪𝘯𝘵𝘦𝘳𝘮𝘪𝘯𝘢𝘣𝘭𝘦 𝘐𝘮𝘱𝘦𝘳𝘪𝘢𝘭 𝘚𝘶𝘤𝘤𝘦𝘴𝘴𝘪𝘰𝘯 𝘥𝘪𝘴𝘱𝘶𝘵𝘦𝘴. 𝘉𝘳𝘪𝘵𝘢𝘪𝘯 𝘸𝘢𝘴 𝘳𝘪𝘤𝘩 𝘢𝘯𝘥 𝘱𝘳𝘰𝘴𝘱𝘦𝘳𝘰𝘶𝘴 𝘣𝘶𝘵 𝘶𝘯𝘥𝘦𝘳-𝘥𝘦𝘧𝘦𝘯𝘥𝘦𝘥, 𝘴𝘰 𝘵𝘩𝘦 𝘉𝘢𝘳𝘣𝘢𝘳𝘪𝘢𝘯𝘴 𝘸𝘦𝘳𝘦 𝘢𝘣𝘭𝘦 𝘵𝘰 𝘭𝘰𝘰𝘵 𝘢𝘯𝘥 𝘱𝘪𝘭𝘭𝘢𝘨𝘦 𝘶𝘱 𝘢𝘯𝘥 𝘥𝘰𝘸𝘯 𝘵𝘩𝘦 𝘤𝘰𝘶𝘯𝘵𝘳𝘺, 𝘳𝘶𝘯𝘯𝘪𝘯𝘨 𝘳𝘪𝘰𝘵 𝘢𝘯𝘥 𝘬𝘪𝘭𝘭𝘪𝘯𝘨 𝘵𝘩𝘦 𝘊𝘰𝘶𝘯𝘵 𝘰𝘧 𝘵𝘩𝘦 𝘚𝘢𝘹𝘰𝘯 𝘚𝘩𝘰𝘳𝘦. 𝘛𝘩𝘦 𝘙𝘰𝘮𝘢𝘯𝘴 𝘸𝘦𝘳𝘦 𝘦𝘷𝘦𝘯𝘵𝘶𝘢𝘭𝘭𝘺 𝘢𝘣𝘭𝘦 𝘵𝘰 𝘳𝘦𝘴𝘵𝘰𝘳𝘦 𝘰𝘳𝘥𝘦𝘳 𝘢𝘯𝘥 𝘣𝘺 369 𝘈.𝘋. 𝘵𝘩𝘦 𝘱𝘳𝘰𝘷𝘪𝘯𝘤𝘦 𝘸𝘢𝘴 𝘴𝘦𝘤𝘶𝘳𝘦 𝘢𝘨𝘢𝘪𝘯, 𝘵𝘩𝘰𝘶𝘨𝘩 𝘱𝘦𝘳𝘮𝘢𝘯𝘦𝘯𝘵𝘭𝘺 𝘸𝘦𝘢𝘬𝘦𝘯𝘦𝘥.

 

The game consists of a map, tables, 400 counters (some spares and extras are also included) and these rules.  You will also need a six-sided die.

 
The new map: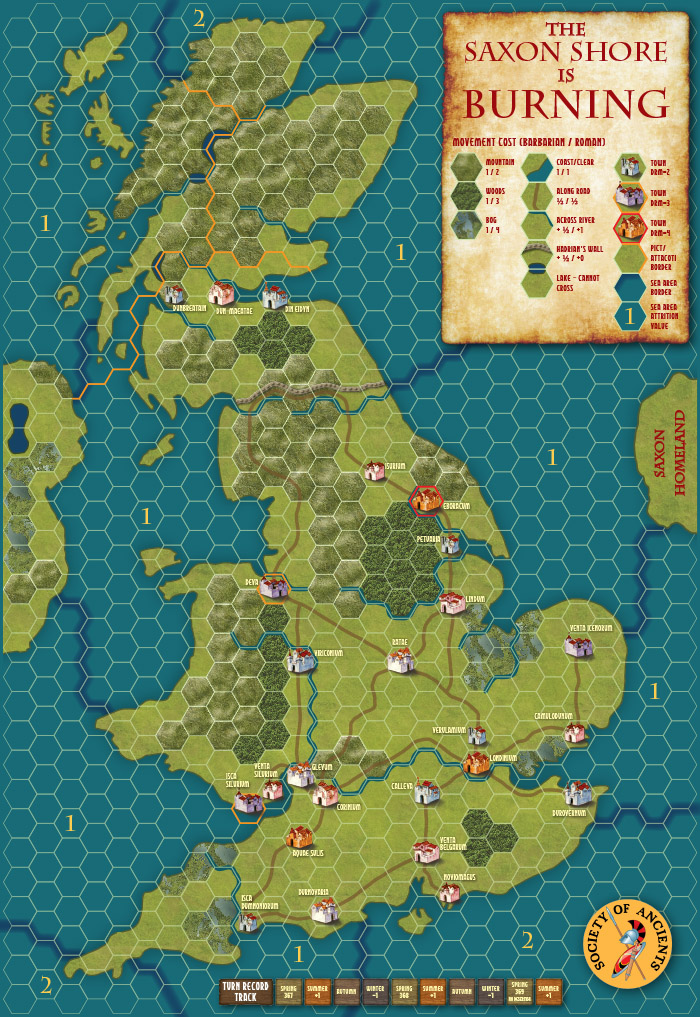 A page from the rules: