Slingshot is a bi-monthly publication, distributed to members of the Society of Ancients as part of their membership subscription. Most of the content is contributed by Society members on a wide range of items related to Ancient and Medieval military history and wargaming. There are articles, reviews, letters, game design ideas, as well as the usual discussion on various wargames rules. Competition results and the occasional battle report are also published. Our quality publication showcases the written contributions from our membership and features original pen and ink artwork.
A PDF index of Slingshot, covering all issues from 1965 to 2010, is available from our
Downloads page
.
Current Issue (Slingshot 295 – July/August 2014)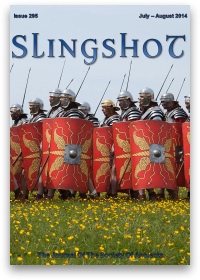 Slingshot 295 is at the printers.
Containing articles on
A Siege in the Desert, by Nicholas Spratt
All at Sea – A Viking Ship from a Toy, by Anthony Clipsom
America's Greek Connection, by Mike Haran
Visiting Old Sarum, by Peter Barham
War, Games and Wargames (3), by Richard Taylor
The Crosby Garrett Helmet, by Stephen Ede-Borrett
Book Reviews, by Mick Hession, Karl Heinz Ranitzsch, Duncan Head & Luke Ueda-Sarson
Mesopotamian Notelets (5), by Alastair McBeath
Magnesia: Modified and Muddied, by Chris Hahn
The Stuttgart Psalter, by Roy Boss
1166 And All That (3) - King Henry, by Mick Hession
Hands in the Sea – An Interview with the Designer, by Aaron Bell
Slingshot is issued 6 times a year to members of the Society of Ancients.
Subscription currently costs £24 for six issues. You can subscribe through the store at the Society's website, http://soa.org.uk