Society of Ancients Conference 2021
The annual Conference is where the Society of Ancients gets together for a weekend to exchange ideas on wargaming in the ancients and medieval periods. And to enjoy playing some good and varied wargames!
As in previous years, things kicked off on the Friday evening with a boardgame session that went on until midnight when even the ragged band of Viking raiders decided it was time to pack up and go to bed.  The rest of the weekend consisted of a presentation followed by breakout sessions where Conference participants were invited join one of several games.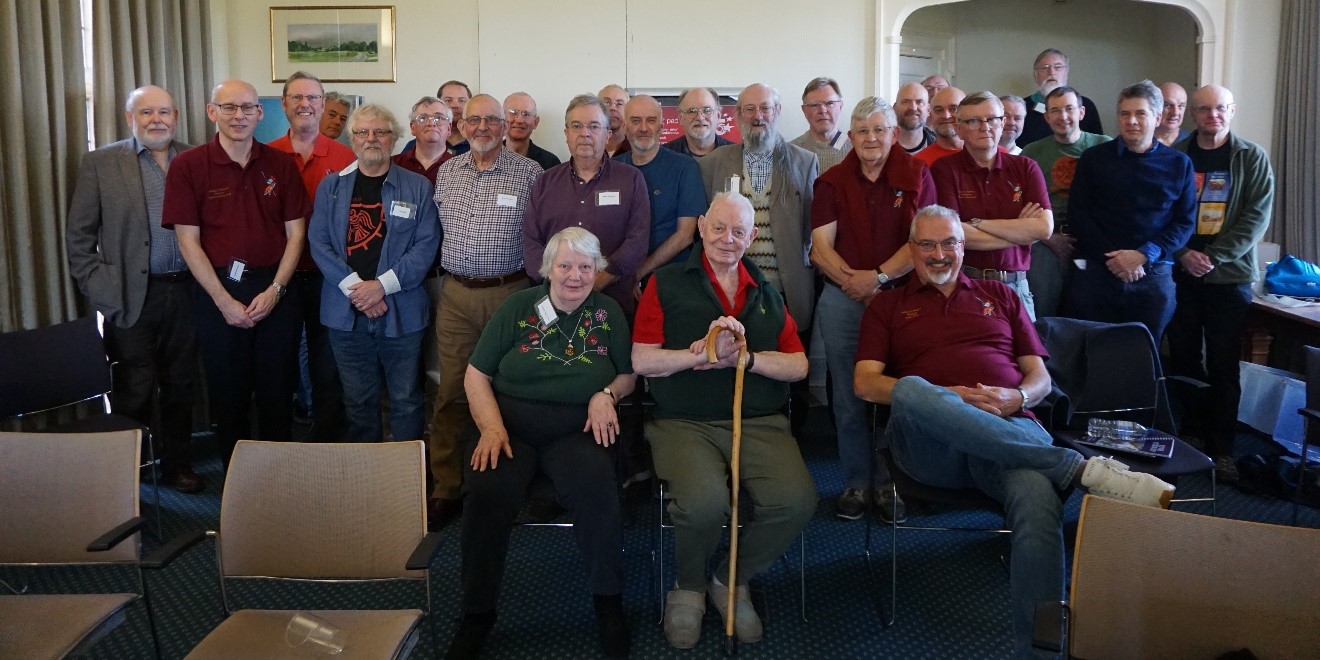 Presentations
This year's Conference included four presentations.
| | |
| --- | --- |
| Adrianople 378 AD | This battle has been chosen for the Society Battle Day on 20th March 2022. Simon MacDowall, author of the Osprey Campaign book on the battle, discussed the battle, the events leading up to it and how his thinking has changed during the last 20 years. |
| Roman Britain's Missing Legion | Simon Elliott explained the truth behind the disappearance of Legio IX Hispana – or, at least, several of the more plausible options for what happened.  |
| Walking Hadrian's Wall | Historical novelist, Ben Kane, shared his experiences of walking the length of Hadrian's Wall with his mates whilst dressed in full Roman military gear and the insights he gained along the way.  |
| Is it possible to teach military leadership? | Life Vice-President and academic, Matt Bennett, discussed what, if anything, medieval leaders might have learnt from reading the ancient Roman strategy texts.  |
Games
The following games were organised for participation during the Conference breakout sessions.
Spartans & Successors

Throughout the weekend, Graham "Trebian" Evans was on hand to explain his new and innovative fast-play Hellenistic rules, illustrated with a number of scenarios from the rules booklet.

 

 

Boudicca's Last Stand

The opportunity to experience some history using figures as seen in the famous Charles Grant book "The Ancient Wargame" – with the help of the Hail Caesar rules, organised and umpired by John Drewienkiewicz and Jeremy Giles.

Ian Piper overcome by some wildly improbable dice rolling

 

 

Peloponnesian War

Richard Jeffrey-Cook runs a Greek battle with 28mm figures using Mortem et Gloriam Pacto, a simplified version of the well-known rule set.

 

 

Pirates of the Aegean

Sue-Laflin-Barker's new naval game saw several groups f pirates attempting to intercept and loot a fleet of merchant galleys before they could make it into port.

"Something wrong with our bloody galleys today!" Matt Bennett looks on aghast as Sue explains that steering your ship onto the rocks automatically sinks it.

 

 

Ad Salices 377 AD
Simon MacDowall and Richard Lockward ran a re-fight of this prelude to the Battle of Adrianople using Simon's Comitatus rules.

 

 

Hastings 1066

Andrew Brentnall refought this battle using some rather nicely painted 10mm figures.

 

 

Montiperti 1260 AD
Phil Steele brought his award-winning recreation of this seminal medieval battle between the Ghibellines of Siena and the Guelphs of Florence in 1260 AD using Impetus rules

 

 

Infamy! Infamy!

Yes, they've all got it in for me. Rich Clarke of Too Fat Lardies invited all to try his light-hearted rules for small scale battles between Romans and barbarians.

They're thinking about their moves far too much!

 

 

Egyptians & Hittites

A Big Battle DBA scenario brought by David Dickinson.

 

 

Bagradas 255 BC

 A much-overlooked battle from the First Punic War, run by Andrew Brentnall with Command & Colours Epic rules and the brand new Wofun Games 15mm plexiglass figures.

 

 

King Arthur Rides!

With the Dux Bellorum rules fit for a King – can the legendary leader turn back the tide of the Saxon horde? You will need to handle your cavalry carefully if you want to save Britain from the pagan onslaught…Richard Lockwood oversees the struggle.

 

 

Châlons 451 AD
Jeremy Giles brought an epic view of this big battle, reprised from a previous Society of Ancients Battle Day, using Hail Caesar rules and 6mm figures

 

 
Society of Ancients Conference 2022
Next year's Conference will be held at Madingley Hall, near Cambridge.  It will take place 28th – 30th October 2022.  It is also planned to have another virtual event in May 2022, details of which shall be provided nearer the time.